I just watched this: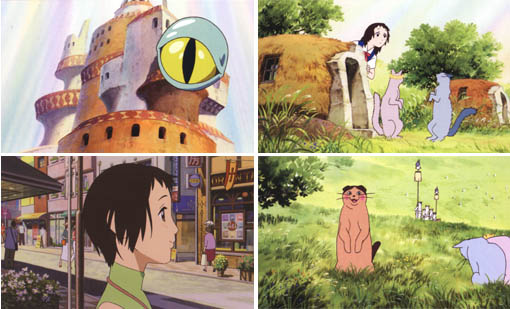 It's very good - It reminded me a lot of Spirited away, interms of the story line/structure.
Has anybody else seen this? i think it was released (in Japan) summer, 2002
also on the same tape were some short animations, calles "ghiblies"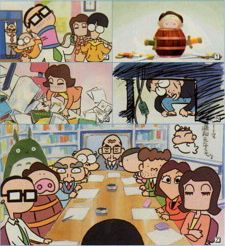 I think it's supposed to be based on people who work at the studio - it's little anecdotes and episodes of everyday life, like eating really spicy curry.
okay - let's make a list of Ghibli/miyazaki movies:
Nausicaa of the Valley of Wind - Kaze no tani no Nausicaa
Castle in the Sky  - Tenkuu no Shiro Laputa
Spirited Away - Sen to Chihiro no Kamikakushi
My Neighbor Totoro - Tonari no Totoro
Kiki's Delivery Service - Majyo no takkyuubin
Priness MONONOKE - Mononoke hime
Porco Rosso - Kurenai no buta
The Cat Returns - Neko no Ongaeshi
Grave of the Fireflies - Hotalu no haka
Only Yesterday - Omohide poroporo
Pompoko - Heisei tanukigassen ponpoko
Whisper of the Heart - Mimiwo sumaseba
Lupin III The Castle of Cagliostro - Lupin Sansei Kariosutoro no Shiro
Panda Kopanda - Panda Kopanda
Sherlock Hound - Meitantei Holmes
Conan, The boy in Future - Mirai Shounen Konan
I can hear the Sea - Umi ga Kikoeru
My Neighbors The Yamadas - ho-hokekyo Tonarino yamadakun
some are produced/directed/original story by Miyazaki before the Ghibli studion was established. Some are directed/produced/story by someone else in Ghibli. Some are TV series that Miyazaki worked on earlier in his career.
oh, here's a list:
http://www.jigsco.com/title/ghibli.html
which ones have y'all seen? am i missing some on my list?
Has anyone seen "Pompoko"? it's totally INSANE.