okay. I need to talk about the Brothers Quay. I think they are amazing and I admire them on so many levels. I'm sure a lot of you know their amazing stop-motion animation such as "Street of Crocodiles", "Rehearsals for extinct anatomies", "The Cabinet of Jan Svankmajer" etc...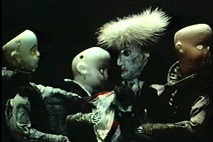 Magnificent sets, puppetry, camerawork, composition, and beautiful music by Lech Jankowski.
Has anyone seen "Institute Benjamenta"? It is one of my most favorite film, it is just so breathtakingly incredible and inspirational
It is live-action. (with some animation)
I can't believe how beautifully each shot is composed, amazing camera work, magical/surreal sets and situations, I mean, they really capture some sort of a dream, and put it on the screen...
They are also my heroes, not only for creating one-of-a-kind film and animation that is pretty much in their own genre, but for SUCCEEDING.
They are "Europeans by choice", as they say, where there is more appreciation and support/funding for art-films and animation. They create their animations almost purely on their own, with meticulous attention to detail. I mean, can you imagine? Two gaunt identical twins, living in a small castle in England, punching out amazing dreams/nightmares that makes the whole world's jaw drop?
I mean, they give me inspiration, they give me hope, they give me confidence in sticking with 'fine art', and they make me want to move to Europe.
Well, I can't even articulate myself, I always get so excited about them. I just wanted to start a thread.