Hipp & Smitty's Amazing Joy Buzzards Vol. 2 kicks off this Wednesday with 'Here Come The Spiders".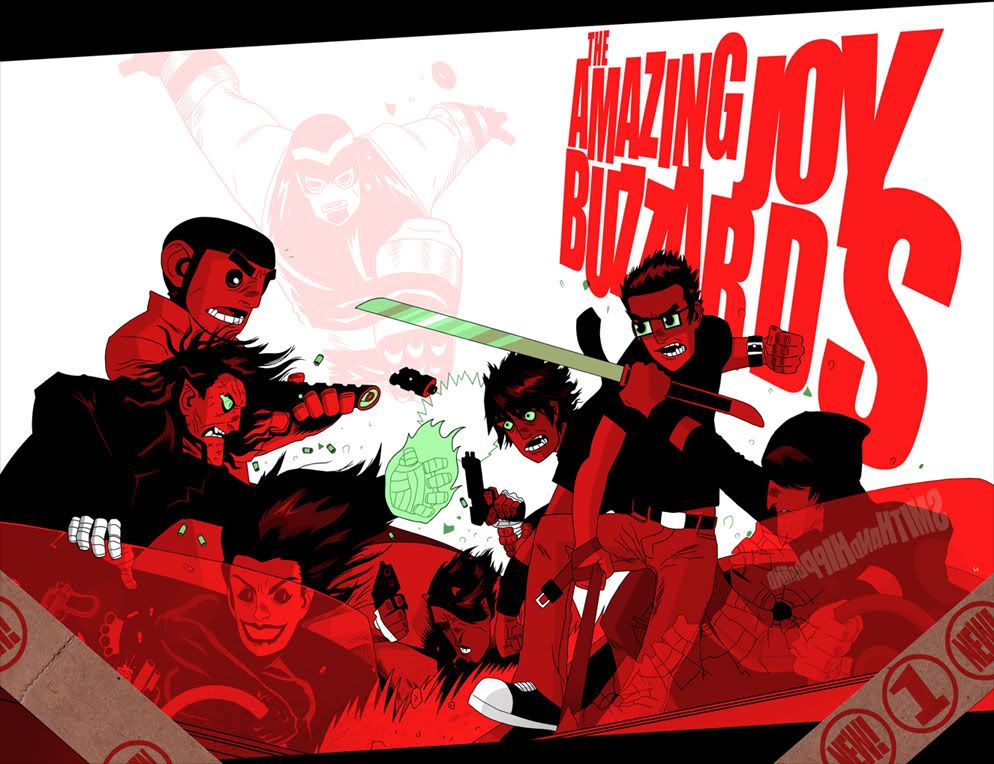 ---
man great review on the 4th rail!!!

CONGRATS!

AMAZING JOY BUZZARDS VOL. 2 #1
"Here Comes The Spiders"

Amazing Joy Buzzards Vol. 2 #1

Image Comics
Writer: Mark Andrew Smith
Artist: Dan Hipp

Price: $2.99 US/$3.65 CAN
If you missed the first Amazing Joy Buzzards, you will have no trouble leaping headfirst into Amazing Joy Buzzards volume two. I say that right upfront because it might be the most important thing for this critically-acclaimed but largely under the radar book. If you were one of the fans of Amazing Joy Buzzards volume one, however, good news: Amazing Joy Buzzards Vol. 2 cranks up the volume another couple of notches, and provides a jam-packed, adventurous, fun, funny and beautiful-looking comic for readers new and old. In the course of this issue, there's a supervillain gathering, a CIA briefing, an impromptu legendary rock concert and a race with tricked-out cars and mysterious, sexy women, and it's all just a blast to read.

Amazing Joy Buzzards has any number of obvious influences, but it doesn't merely emulate what it seeks to homage. The rock band on the road, solving supernatural mysteries, is reminiscent of everything from Josie & The Pussycats to Scooby Doo, and the members of the band run the gamut from the smart but shy guy, the laconic badass who also happens to be a racecar driver and the chatty, charming frontman who loves the ladies. The inclusion of vampires, mad scientists, immortal gods and superpowered masked Mexican wrestlers helps to give the sense of a pop-culture stew. Basically, reading Amazing Joy Buzzards should give you that same feeling you got when you were a kid watching Saturday Morning cartoons and chowing down sugar-frosted cereal.

This book is wildly imaginative and energetic, and the story really moves. I'll be honest, given that I really enjoyed the previous story altogether in a trade paperback, I worried that the single issue format might not click as well with me, but Amazing Joy Buzzards Vol. 2 #1 is a very satisfying read. Smith and Hipp give us an introduction to the villain group, the team's support system, the team itself and still find time to throw in an action-packed and innovative race car action sequence. There's not a bit of wasted space going on in Amazing Joy Buzzards, and the book is packed to the gills with extra details that make the tone and style of the book come to life.

It is these little details that help Amazing Joy Buzzards really stand out. Interspersed with standard comic book storytelling, Hipp and Smith have included "pop-up bios" of each of the characters when they first appear, convincing "house ads" for the comic, the European tour of the Amazing Joy Buzzards band, AJB cereal and the cover of their impromptu live CD. There are any number of cute gimmicks like this that help to keep the story flowing without feeling overcrowded, like having Stevo speak entirely in picture form (similar to Impulse's original thought balloon process in DC's Impulse title) or cross-cutting the villainous plotting with the CIA briefing on the Buzzards so that we get two story threads running simultaneously. Smith and Hipp are innovative storytellers, and that shines through in every page of Amazing Joy Buzzards.

It should also be said that while innovation and imaginative quirks are all well and good, the basics of Amazing Joy Buzzards' comic-book storytelling are really sharp as well. Hipp has a visual style akin to what you might get if you crossed Jim Mahfood with Mike Oeming and Guy Davis, and while he's not afraid to break panel borders with dialogue balloons, the actual action remains firmly contained within the panels, making what could be a cluttered approach easy to read and perfectly clear. That's not to say that Hipp doesn't offer up a bit of experimentation in the sequential art portion of the book, however, as the last few pages tilt effectively to give the reader a widescreen view of the race, and it makes for a very exciting and open feel.

In these days of comics costing $3 or more per issue and often delivering little more than a small portion of a larger story, Amazing Joy Buzzards really offers bang for your buck, packing in characterization, action and tons of unique flavor.
---
---
---
Lookin' good guys!
---
---
Posts: 909
Joined: Wed Feb 04, 2004 4:38 pm
Location: oakland
Contact:
KingMixer,
is there a TPB of volume #1 of the AJB for those that stupidly missed the individual copies when they came out?
volume 2 #1 looks insanely awesome, by the way!!
---
Thanks Peng, Yeah there's The AJB Vol. 1 TPB and it's really big at around 200 pages for only 11.95 which is a really easy to pick up book, and you don't need to have read the first series to enjoy Vol. 2 but it helps and there are a lot of little things you'll pick up and notice if you have read the first volume, so it will be more rewarding.
---
Who is online
Users browsing this forum: No registered users and 17 guests